Levelling Up Parks Fund announced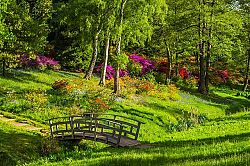 The Government has announced a new £9 million Levelling Up Parks Fund aimed at creating new or significantly refurbished green spaces in urban areas. Sums of up to £85,000 will be allocated to pre-selected local authorities.
This new fund aims to increase access to green spaces in deprived urban areas, as well as increase tree-planting - to which £2 million of the fund is allocated - and local pride. In addition, the Government believes the new parks will contribute to meeting their net-zero targets.
The fund will be allocated to local authorities in areas with the least access to green space and which rate highly on the Index of Multiple Deprivation. Councils will therefore not have to go through a competitive bidding process. If a council opts out, then the funding will go to the next eligible place. 85 local authorities across England are currently eligible for the fund, and each will have to complete an opt-in form by 5 September 2022 and then submit a project proposal by 3 October 2022.
Greg Clark, Levelling-up Secretary, said "Parks and green spaces are at the heart of our communities, providing sanctuary from the bustling streets of our towns and cities and spaces for people to relax and come together. Over the past few years, the importance of spending time with loved ones and getting outdoors has become even more apparent, and this latest Government funding will help people living in urban areas do just that."
"I look forward to seeing the new parks come to life and making a real difference to people's daily lives for years to come."
The local authorities will be able to choose the nature and location of the new or improved parks.