Hot food takeways will be required to tackle waste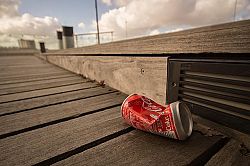 Planning guidance has been updated and clarified in order to allow councils in England to set strict rules for new hot food takeaways when considering planning applications for such establishments.
For instance, more bins may be required to be installed to deal with the increase in waste that a new takeaway would ultimately generate. Anti-litter signs around the shops might have to be mandatory, or staff members could be made to pick up litter more regularly. By imposing such rules in the planning stage, it is hoped that it will lead to cleaner town centres.
Some councils have already started making such rules. Gateshead Council, for example, has ordered new takeaways to provide litter bins for customers. It is that this practice will become normal across England.
Speaking about the guidance, Levelling Up Secretary Greg Clark said "We are empowering councils to make sure new takeaway food businesses are doing their bit to stop rubbish littering our high streets. It is just one of the many ways we are improving the environment and making sure we can all take pride in the local communities we call home."
For more information on this subject, see: