News
Updated Aug 10, 2022
Dry spell straining wildlife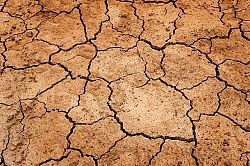 The second notable heatwave of the summer may be something being enjoyed by many holidaymakers, but the increasing dry spell being experienced in the UK is causing alarm for environmentalists.
Whilst the uncharacteristic warm and dry summer has been attributed to the impact of our changing climate, environmental groups are pointing out that wildlife is suffering as a consequence, further highlighting how much environmental damage could occur if this climate becomes the new normal.
Rivers are already under increasing pressure due to pollution, but an impending drought is seeing some rivers and streams dry up or experience low flow, which is putting a strain on wildlife. The Rivers Trust explained that chalk streams support many species such as kingfisher, salmon, marine plants and otter. However, some of them have dried up.
Christine Colvin of the Rivers Trust said, "The wildlife here is already stressed as a result of the hotter temperatures and their habitat is shrinking as the water levels are getting lower and lower. We don't want them to go any lower than they are now."
Low river flows seen across the UK mean a scarcity of food sources for fish, insects and invertebrates. This then has a cascading negative influence on the food chain. It also impacts plants growing in the water and on the river banks, which could have an impact on biodiversity. Algae blooms have also been spotted on some lakes due to the hot weather.
Chalk streams are also used for drinking water, with millions of litres extracted every day. As a result, there is a plea to reduce water consumption wherever possible in order to reduce the stress on waterways. We also need to learn how to use water differently, especially if these dry spells become more frequent as expected.
Ms Colvin said, "This hot spell and this prolonged dry period is a pressure test for us now to get ready for the long haul because we're going to be seeing many more summers like this in years to come."