£2m funding for E-highway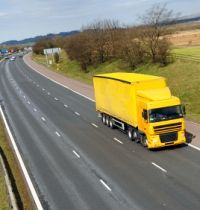 £2m has been given to a study to investigate plans for an overhead electric cable for a 20km stretch of the M180 near Scunthorpe.
Designers are planning to fit lorries with technology that can tap into the electricity supply.
Electric Road Systems supply battery-electric trucks with electricity from overhead catenaries via a pantograph enabling HGVs to charge dynamically.
Siemens and Scania already have similar electric road system systems in operation in Germany, Sweden and the US.
The study led by Costain Ltd will run in parallel with similar studies investigating the viability of hydrogen power and conventional battery-power the Department for Transport has said.
Transport Secretary Grant Shapps said: "Through our bold and ambitious transport decarbonisation plan, we're leading the way in the transition to zero emission vehicles by becoming the first country in the world to commit to ending the sale of all new fossil-fuelled road vehicles by 2040, subject to consultation. 
"From Doncaster to Scotland, by working in partnership with industry, this funding will allow us to better understand the role of zero emission HGVs while levelling up the industry and boosting regional economies."