News
Updated Aug 12, 2020
"Work Safe, Safe Work" campaign launched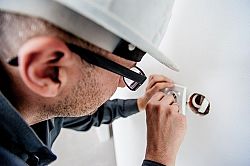 The Coronavirus pandemic has been devastating in the UK, but we are now beginning to finally look beyond lockdown and starting to get the country and the economy working again.
To help make this happen, the Government and industry have written new guidelines for tradespeople that promote safe working in and around people's homes.
Work Safe, Safe Work
Developed by TrustMark and supported by The Construction Leadership Council, the "Work Safe, Safe Work" campaign has been created to guide and reassure homeowners who are looking to employ tradespeople in and around their homes in a post COVID lockdown world.
The aim is to provide guidance and information to homeowners and tradespeople to restore confidence in the marketplace, raise awareness, and provide guidelines on working safely in customers' homes.
Campaign material includes a short animation and a booklet that can be downloaded or given to the homeowner before a visit to their property, which gives them practical advice about what COVID-safety measures should be discussed and carried out before, during and after work is done in and around their home.
For more information, see: