UK electricity grid could have negative carbon emissions by 2033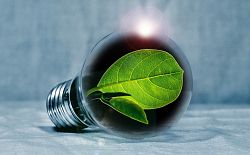 A report published by the National Grid has said the UK's electricity grid could have negative carbon emissions from 2033, provided that carbon capture storage technology is utilised alongside increased renewable energy capacity.
The National Grid report sets out their vision to achieving their 2050 climate targets, and the operators vision for a negative emissions national grid, which includes 30 million electric vehicles on UK roads and eight million heat pumps replacing gas boilers across households. They say if carbon capture technology is used alongside bioenergy sources, and there is increased renewable energy generation, it is possible to have negative carbon emissions from the electricity sector within 13 years.
There is an anticipated 'boom' expected in renewable energy projects in the UK, including over 3GW of new wind power capacity and 1.4GW of solar generation expected annually from now until 2050. Alongside this consumer habits are expected to change with greater energy efficiency and the end of gas boilers, with millions expected to rely on heat pumps fitted with thermal heat batteries. It is also hoped that the uptake in electric vehicle use will increase and become widespread - the National Grid say this will effectively act as smart-charging batteries and help balance out the grid.
In order for the UK to achieve this, and also meet its legally binding targets of net zero carbon emissions by 2050, immediate action is required by the Government relating to key energy policies, and greater work needs to be undertaken in bioenergy and carbon capture and storage (CCS).
The National Grid report claims that if carbon capture is used to trap emissions from bioenergy power plants, this would mean the electricity produced by these plants would save 62 million tonnes of carbon dioxide emissions by 2050, this equates to 13% of the UK's total greenhouse gas (GHG) emissions in 2019. It is also expected that CCS technology will have a big role to play in removing GHG emissions from gas plants in the North Sea used to produce clean burning hydrogen for factories, steel works and power plants across the UK.
Head of Strategy at National Grid ESO, Mark Herring, commented: ''Across all scenarios, we see growth in renewable energy generation, including significant expansion in installed offshore wind capacity. There is widespread uptake in domestic electric vehicles, and growth and investment in hydrogen and carbon capture technologies too. Although these are not firm predictions, we've talked to over 600 industry experts to build this insight and it's clear while net zero is achievable, there are significant changes ahead.''