Investment needed in active travel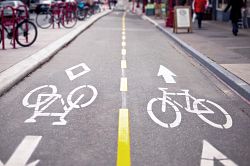 The Association of Directors of Environment, Economy, Planning and Transport (ADEPT) have called for the Government to provide further investment in active travel, in order to enable structural and behavioural changes to be a part of everyday life.
In May the Government announced a £250 million emergency active travel fund following the coronavirus lockdown, which enabled many local authorities to install temporary infrastructure to make walking and cycling a lot easier.
Most local authorities have focused their efforts on areas with narrow footways and high footfall to enable improvements to be made to allow for social distancing. Some of the measures taken include the installation of temporary roadworks and signage, re-allocation of road space for pedestrians and cyclists, as well as reduced waiting times at pedestrian crossings.
However ADEPT say more must be done to ensure efforts made to increase the amount of cyclists and people walking are sustained. In order to do this active travel needs to be designed into the travel network to maintain it. Promoting active travel will also help the Governments drive towards net-zero emissions by helping reduce travel emissions and tackle climate change.
For local authorities to make changes made to allow active travel more permanent, they must have appropriate long-term resources made available to them so they can achieve this.
The local authority directors discuss the concept of the '20-minute neighbourhood' in their report. Mark Kemp, ADEPT transport board chair explains more: ''The concept of a '20-minute neighbourhood' where people have everything they need – schools, shops, recreation and work – within a 20-minute walk is gaining traction across Government. ADEPT members are ready to work with Government to make this truly a 'new era', but to succeed, these changes can only be made at the local level, using local knowledge and securing the buy-in of communities through clear engagement. To do that, place directors must have the resources in place and the ability to lead.''