Draft legislation published on domestic solid fuels standards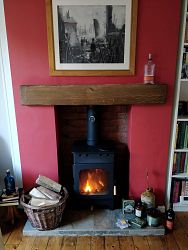 The Draft Air Quality (Domestic Solid Fuels Standards) (England) Regulations 2020 have been published, which:
places restrictions on the sale of wet wood for domestic burning;
limits the emission of sulphur and smoke from manufactured solid fuels; and
phases out the sale of bituminous coal (traditional house coal).
Such action is necessary since domestic burning through wood burning stoves and open fires is a major contributor to national emissions of fine particulate matter (PM2.5).
The requirements will be enforced by local authorities.
Legislative background
The Regulations are made under the Environment Act 1995 and give effect to part of the Government's 2019 Clean Air Strategy, by phasing out the sale of the most polluting fuels used for domestic burning. It also helps meet the obligations placed on the UK by the EU, under:
Directive 2016/2284/EU on national emission ceilings for certain atmospheric pollutants;
the United Nations Economic Commission for Europe 1979 Convention on Long-Range Transboundary Air Pollution;
the 1999 Protocol to Abate Acidification, Eutrophication and Ground-level Ozone, which was revised in 2012.
Policy aims
The policies set out by the Regulations are intended to improve air quality and are focused on PM2.5 emissions.
PM2.5 has been identified by the World Health Organisation as the most damaging air pollutant. The tiny particles in smoke can enter the bloodstream and internal organs causing long term health issues, as well as having more immediate impacts on some, such as breathing problems or asthma attacks.
Domestic burning is a major contributor to national emissions of PM2.5.
Based on the National Atmospheric Emissions Inventory data for 2016, it accounted for approximately 38% of the UK's PM2.5 emissions, more than industrial combustion (16%) and road transport (12%) combined. The National Statistics on Emissions of air pollutants in the UK 1970 to 2018 (published in February) indicated that 41% of the UK's PM2.5 emissions came from the domestic burning of wood and coal in 2018.
Given the impact of PM2.5 on human health, it is important to take action to reduce the impact of domestic burning on the health of householders and their neighbours.
The main change is phasing out the supply of traditional house coal, wet wood sold in units up to 2m³, and introducing sulphur and smoke emission limits for manufactured solid fuels.
Not a ban!
Contrary to sensationalist headlines, there is no ban of stoves or open fireplaces.
The aim is to shift people from more polluting to less polluting fuels, and for people to move from wet wood to dry wood, and from traditional house coal to smokeless coal and low sulphur manufactured solid fuels.
It is estimated that restrictions on the sale of wet wood will abate 87.9 kilo tonnes (kt) of PM2.5 emissions between 2020 and 2030. Restrictions on the sale of traditional house (bituminous) coal are estimated to abate 3.7 kt of PM2.5.
The Regulation will help contribute to the Government meeting its 2030 emission reduction commitments through the abatement of approximately 9.37kt of PM2.5 in the year 2030.
Supporting guidance
Additional guidance will be provided for manufacturers, distributors and suppliers of relevant fuels to make sure that they understand the legislation and the requirements around certification so that they are compliant when it comes into force.
Separate guidance will also be made available for local authorities so that their enforcement officers have a clear understanding of the certification schemes and their ability to enforce the legislation.
For more information, see: