UK's first hydrogen-powered refinery furnace arrives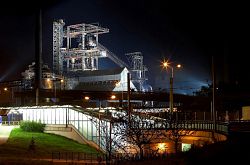 A multi-million-pound hydrogen-powered furnace has arrived at the Port of Liverpool.
The furnace is part of a major investment by Essar Oil UK, and will be installed at its refinery in Stanlow, to help decarbonise its operations.
It is believed that the furnace will be the UK's first refinery-based hydrogen-powered furnace. It will replace three existing furnaces at the refinery from 2026 and run off 100% hydrogen. The switch to the new hydrogen furnace will reduce carbon dioxide emissions by 242,000 tonnes annually.
Chief Executive Officer at Essar Oil UK, Deepak Maheshwari, commented on the project: "We have embarked on a major investment programme to upgrade Essar's infrastructure and future-proof our organisation as leaders in the transition to low carbon and this furnace is one of many steps being taken to become the UK's first low carbon refinery."