Back to teaching - COVID-19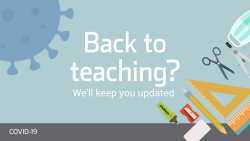 As we start the journey to return to work we are all seeking guidance and advice from the government and other national and international agencies. Here at Cedrec we are collating relevant guidance documents to help you return to work safely and with as little impact on the environment as possible.
Back to teaching and COVID-19
One of the biggest challenges around the easing of lockdown restrictions has been around the re-opening of schools and other education establishments. Managing education establishments appropriately to ensure the safety of all those employed there and the children and adults using the facilities is hugely important. In a sector where social distancing is probably the most difficult to maintain there are many things to consider to ensure the health and safety of all those visiting the site and their families.
Numerous government guidance documents have been issued to address safe working that covers:
childcare and children's social care settings;
implementing protective measures in education and childcare settings;
isolation for residential educational settings;
infection prevention;
personal protective equipment (PPE); and
planning guides for schools.
The guidance relating to education establishments are listed on our COVID-19 advice page.
General information on COVID- 19
Cedrec has created a detailed In Focus which sets out relevant advice about working safely during the pandemic across several sectors as well as being a central access point for many relevant guidance documents. This will be particularly useful for those responsible for managing health and safety on various sites around the UK. It is updated regularly so we recommend it is checked as often as possible in order to remain up-to-date on current advice.
The page can be accessed using the following link: