Government release funding to reduce industry emissions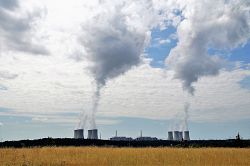 £31 million is being invested by the Government to try and reduce industry's reliance on fossil fuels and reduce energy bills.
A total of £5.5 million will be assigned to the generation of fossil fuels from biomass and waste products. It will also be used to design heat pumps that can be used in large scale manufacturing sites.
£6.6 million will be spent on research into diesel alternatives, including the use of green hydrogen and other e-fuels in machinery and transport.
£12 million will go towards carbon capture technology, and the remaining funding will be spent across other low carbon technologies.
Energy Minister Greg Hands said: "As we accelerate the UK's energy independence by boosting clean, home-grown, affordable energy, it's crucial that our industries reduce their reliance on fossil fuels. This investment will help them to not only cut emissions but also save money on energy bills, on top of supporting jobs by encouraging green innovation across the UK."
This new funding builds on previous Government support to help industry become greener, such as the £505 million BEIS Energy Innovation Programme, which included £100 million for industrial decarbonisation and CCUS, as well as the £315m Industrial Energy Transformation Fund, which supports the development of technologies to help industry with high energy use to transition to a low carbon future.
Alongside the Government's plans to boost the UK's long-term energy independence, this investment will help industry in the shift to a lower-carbon economy.