University of Nottingham is developing a £2m smart energy grid project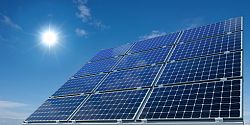 The Faculty of Engineering at University of Nottingham have received £2m of funding from Research England through the UKRPIF: Net Zero pilot initiative, to develop a smart energy grid project, which will create a unique DC microgrid that uses renewable energy production and storage technologies to help the University achieve net-zero.
Once the Future Energy Efficiency with DC Microgrid Technologies (FEED-MT) project is complete, the microgrid will be installed in between the Power Electronics, Machines and Control (PEMC) and Research Acceleration and Demonstration (RAD) buildings on Jubilee Campus.
The system aims to feed energy to the PEMC building to use renewable energy sources and flatten energy demand spikes when high load testing is taking place, store hydrogen for use by the RAD building, and act as a self-contained, low-carbon power network.
According to the University's press release, the grid will be made up of multiple PV panels, which will produce green energy which then will be stored in industrial sized battery systems or through an electrolyser which will convert the produced electricity into hydrogen, which will be stored and used on-site by the RAD building when needed.
Head of the PEMC Research Group at the University of Nottingham, Prof. Pat Wheeler said: "We're thrilled to have been awarded this funding to help make both buildings greener, a goal that sits at the heart of the faculty's strategy and is also incredibly important to many of our customers and partners in the industry.
"As one of the first institutions to bring these different elements of energy storage together in this way, we're keen to educate others in the sector as to how they can embrace this technology to suit their own needs as well."
The Director of the University's Energy Institute, Prof. David Grant said: "Researchers based in both the PEMC and RAD buildings are undertaking significant research in power electronics machines and control, and hydrogen storage and its utilisation.
"To be able to put an integrated system in place that enables this research to continue in an even more environmentally friendly way is a huge step forwards for our green credentials and has been a fantastic opportunity for both groups to collaborate as well."