UK's investment in green energy falls 10% in 2022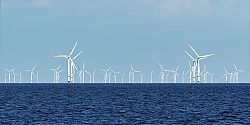 Research carried out by the House of Commons library, commissioned by the Liberal Democrats, has shown that the UK's investment in clean energy has slowed over the 2021-2022 period, falling 10% from $31bn to $28bn, while other western nations had increased their investments in the production of renewable energy.
In the aftermath of Russia's invasion of Ukraine, many countries decided to become independent from the imported fossil fuels, and the investments in green energy rose by $26bn last year, topping $180bn, while in the US it rose by 25% to $141bn. The data covers all investment both private and public sector, and covers renewable energy, electric vehicles, energy storage, heat pumps and carbon capture and storage.
Since 2016, when the 'green' investment hit $24bn, renewable energy investment fell sharply to just $7.6bn in 2017. The next year the UK spending on renewables slightly increased to $8.8bn but then in 2019 it slumped again to $5.3bn.
In recent years, the generation of energy from renewable sources has been a mixed picture in the UK, with offshore wind energy production expanding significantly, while onshore wind has been almost impossible to build in England due to the changes of planning legislation in 2015, and a degree of hesitation to deploy solar farms.
On top of that, the UK government has not mandated the installation of PV panels on roofs of new houses in England. This lack of focus on home insulation is viewed as a major issue that must be addressed to improve the energy efficiency of homes in the UK.
Instead of these measures, in their most recent budget the UK government doubled down on investing in the deployment of carbon capture and storage (CCS) technology, which is yet to be developed and was called into doubt by scientists.
The Lib Dem energy and climate spokesperson, Wera Hobhouse MP, accused the government of a "dereliction of duty" due to the failure to focus on the economic opportunities of decarbonising and to safeguard energy supplies and mitigate climate change.
She said: "The government's claims of being world leaders in the energy transition are in tatters. This data lays bare their neglect of our vital net zero goals, and failure to insulate us from the next energy crisis.
"While other nations are facilitating major investment into the key industries of the future, our government is content to sit back and watch them race ahead. The result will be a lack of energy security, higher energy bills, and the continuing failure to hit our climate targets."
To counter those claims, the spokesperson for the Department of Energy Security and Net Zero (DESNZ) said: "Selective analysis of figures in this way is misleading. As home to the first, second, third and fourth largest operational offshore wind farms in the world, backed by £198bn of investment into low-carbon sectors since 2010, our record speaks for itself. That's 50% higher than the US as a share of GDP, and that's why 40% of our power came from renewables last year, nearly twice the figure for the US. Furthermore, the price of many renewable technologies has come down in recent years.
"The government is continuing to back clean energy, including the first state backing of a nuclear project in over 30 years in Sizewell C. Last month, we unveiled our Powering Up Britain plans to help us further deliver affordable, clean, homegrown power."