£300m investment to transform Scottish port into renewables hub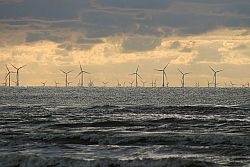 A US company, Quantum Energy, has committed to invest £300m to transform a Scottish port in the Highlands, placed between Inverness and Nairn, into a major green energy transition facility.
Ardersier Port Authority hailed the project, which will see a 450-acre former McDermott construction yard site redeveloped to support offshore wind energy projects which will deliver renewable energy to Scotland, the UK and wider Europe. The newly redeveloped site will also be used to decommission old North Sea oil and gas structures.
Michael MacDougall, who is a partner at Quantum said: "The site's scale and geographical location means it is ideally positioned to become a leading European hub for offshore renewable energy." He also added that the company is "delighted to invest" in Ardersier.
The project is expected to create thousands of construction jobs in the area, in addition to the vacancies related to the deployment and maintenance of offshore wind farms and the decommissioning of North Sea assets.
The MSP for Inverness and Nairn, Fergus Ewing, said: "I warmly welcome the announcement of this major investment.
"The site has a long history in oil and gas fabrication. Now the investment will be in renewables. This will create opportunities in the Highlands, especially for young people. I welcome the commitment to work with local communities."