£38 million donation helps to restore habitats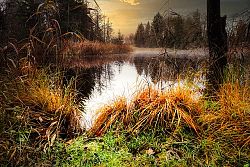 After a £38 million donation from Aviva, Wildlife Trusts has said it will begin to restore rainforest habitat on the Isle of Man and North Wales.
The donation is part of a larger £100 million nature based project being undertaken in the UK and Ireland by Aviva to help address climate change by removing carbon dioxide from the atmosphere.
Restoring rainforest habitat, which is currently only at 1% in Britain, can have huge impacts on the environment which include providing cleaner air and water and helping to reduce flooding risks.
Along with helping the environment, the project will help create local jobs, volunteering and education opportunities.
The project will begin at Creg y Cowin in the Isle of Man and Bryn Ifan in North Wales, which will see damper, western climes restored where they have been largely destroyed. This will be achieved by planting native tree species in both areas.
Rob Stoneman from Wildlife Trusts provided that the projects would bring "vital habitat for wildlife in a time of nature crisis, store vast amounts of carbon, and benefit local communities for generations to come".
Sustainability Director from Aviva, Claudine Blamey said:
"It's brilliant news that The Wildlife Trusts can begin restoring temperate rainforests in North Wales and the Isle of Man. Aviva is proud to play its part in these projects, helping the economy become more climate-ready. Rainforests will add to the natural beauty and cultural heritage of each area, as well as providing flood resilience, and opportunities for volunteering, green jobs and tourism. These projects will make a positive contribution to nature, climate and communities, so we are thrilled."