News
Updated May 19, 2022
Love Island swaps fast fashion for second-hand clothes this year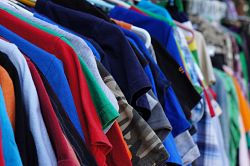 Known for its partnerships with fast fashion brands like I Saw It First and Missguided, Love Island contestants will wear second-hand clothes this year after ITV announce a new partnership with eBay UK.
Contestants each year are provided with a shared wardrobe, which this year will all be pre-loved clothes, instead of previous years where a fast-fashion brand has provided garments and benefited from the publicity.
What is fast fashion?
Sustainable and ethical fashion brand Ratings site, Good On You, defines fast fashion as cheap, trendy clothing that samples ideas from the catwalk or celebrity culture and turns them into garments in high street stores quickly to meet consumer demand.
The idea is to get the newest styles on the market as fast as possible, so shoppers can buy them when they are still classed as "fashionable" and then discard them when they are no longer relevant. It plays into the idea to not outfit repeat and that in order to stay relevant you have to keep up-to-date with the latest looks.
It forms a key part of the system of overproduction and consumption that has made fashion one of the world's largest polluters, and:
causes extensive damage to the planet;
exploits workers;
harms animals; and
coerces consumers.
Common factors of fast fashion brands include:
thousands of styles which are on trend;
extremely short turnaround time from seeing a garment on a catwalk or in the media, to when it hits the shelves;
offshore manufacturing where labour is the cheapest, with workers on low wages without adequate rights, and complex supply chains;
limited quantity of a particular garment to give shoppers an urgency to buy before they miss their chance;
cheap, low quality materials like polyester, causing clothes to degrade after a few wears and get thrown away.
What is the impact of this change?
Previous contestants are known for becoming fast fashion influencers, so this new sponsor of eBay is a very positive move to bring sustainable fashion to the forefront, which will hopefully have a big influence on their audience.
A contestant from last year's show, Brett Staniland, was the first to reject its offer of free clothes.
"Before I entered the villa, I was offered £500 to spend with the show's sponsor," he says. "Once I was inside, I was delivered duffel bags full of free clothes every three or four days, which I also declined. It was mind blowing to see so many clothes worn once and then discarded. The show is symbiotic with fast fashion".
The collaboration comes after research from eBay found that 20% of Britons buy more second-hand fashion now than two years ago, and 18 to 24-year-olds own the most pre-loved clothes compared to other age groups.
The data also found that money-saving and environmental factors were the biggest reasons why people shop second-hand.
Staniland added that the pre-loved wardrobe will have a "massive impact on reducing the stigma of second-hand clothing, especially since the fast fashion consumer overlaps so much with the Love Island viewer".
Mike Spencer, the executive producer of Love Island, said: "We are thrilled to be pairing up with eBay this year as our pre-loved fashion partner. As a show we strive to be a more eco-friendly production with more focus on ways in which we can visibly show this on screen".
"This partnership will see our Islanders get to dive into the shared wardrobes and help themselves to some incredible pre-loved clothes sourced from eBay. We aim to inspire our demographic and show that there are incredible finds to be had and how sharing is, in some small way, caring".
Jemma Tadd, head of fashion at eBay UK said: "We're so excited to partner with Love Island this year and put pre-loved fashion centrestage. The impact of Love Island and its stars across the UK is undeniable and together we want to inspire the nation to choose pre-loved first when shopping - even if this means buying or selling one or two pre-loved items to start with, it's a step in the right direction".
"We can't wait to change the conversation and dress the Islanders in pre-loved outfits for the very first time".