Hydrogen gas trial launched in Scotland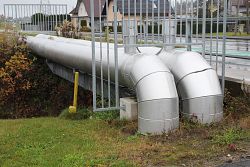 Chemical company INEOS and gas distribution company SGN, are partnering up to trial the transportation of hydrogen into the gas grid in Scotland.
The trial, which is being funded by Ofgem, will transport hydrogen through a 29 kilometre stretch of decommissioned pipeline. It aims to determine the feasibility of repurposing existing natural gas networks for hydrogen.
A report by the Energy Networks Association earlier this year suggested that from 2023 all five of Britain's gas grid companies will meet the government target of gas pipes being ready to deliver hydrogen to homes and businesses. The target for the amount of hydrogen being delivered through gas pipes is 20%.
SGN Director of Energy Futures Gus Mcintosh said: "Our Local Transmission System is part of the national critical infrastructure that reaches millions of homes and businesses across the UK. So, repurposing it for hydrogen could support a hydrogen system transformation that is least cost and least disruptive to customers."