News
Updated May 26, 2021
Report recommends expansion of Homes England's scope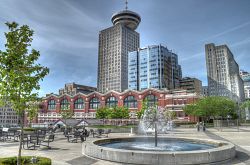 A report into the Future of Urban Centres, undertaken by Key Cities and Core Cities UK, has recommended that the remit for Homes England, the Government housing agency, should include regeneration. They also say that there should be a link between housing and regeneration funding.
Key Cities and Core Cities UK represent 36 urban centres across the UK. They commissioned the report that identifies how the country can be levelled up as well as helping to recover from 'Zoomshock' which refers to the economic activity shift due to the increase in those working from home as a result of the COVID-19 pandemic.
The report found that cities have lost around 229,000 workers to rural areas, and if productivity in the Key Cities and Core Cities were to match the national average, this would see an £89 billion increase in the national economy. They call for greater collaboration between cities and the Government in order to tackle:
economic inequality;
job losses; and
the climate emergency.
Another key recommendation is that the devolution and levelling up white paper should support new powers for cities that outline a process for further devolution and city deals that can enable cities to lead renewal. As part of this the Government should work with cities on a series of recovery, levelling up and renewal deals to establish strategic place plans, along with the appropriate funding and joint delivery arrangements.
They also call for the expansion and development of skills and training initiatives to allow cities to upskill communities and create jobs. Innovation districts should be developed within cities alongside affordable retrofit housing plans.
Chair of Key Cities, John Merry, commented: "If COVID-19 has taught us anything, it is that going back to the way things were is not an option. Only new, locally led, solutions will work in a world changed forever by the pandemic. That is why we believe it is time for radical new thinking about the role of our cities and to argue for Government to implement policies that can unlock their massive power and potential. This report is an important step on that journey."
Chair of Core Cities UK, Nick Forbes, added: "If we want cities to drive recovery, we must listen directly to those who run and represent those places, who are closest to the lived experiences of residents and aware of the obstacles and opportunities for progress. The inclusive renewal deal in our report sets out in practical terms how, by working together, we can find solutions to systemic problems like unemployment, poor health and inequality and change society for the better."