News
Updated May 27, 2021
Enough space on brownfield land in London for 400,000 homes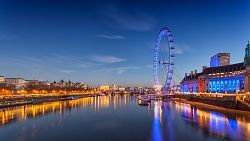 In a new report published by infrastructure consultant AECOM - London 2070: Our Vision for the Future City Region, it has been stated that there is enough capacity in brownfield land around London to support 400,000 homes. The majority of London's brownfield land (90%) which is the equivalent of around 2,000 hectares, is within 15 minutes of civic and transport hubs.
The report calls for a greater emphasis on redeveloping brownfield land and underused buildings in order to deliver new homes in locations that support sustainable growth. They stress that urban homes shouldn't be built without access to local facilities and sustainable transport systems.
Focusing on redeveloping brownfield land must run alongside a programme for garden communities designed to encourage active travel and public transit. These should be climate positive, balancing the demand for new homes with use of resources.
Andrew Jones, AECOM's city programme director, Andrew Jones, said: "London consistently falls short of building sufficient homes in sustainable places. Intensifying the reuse of previously developed land close to existing transport options and social infrastructure would help support the swift delivery of new homes and support a renaissance of town centres. Our research shows there is the potential for nearly half a million new homes on brownfield land close to existing hubs in the capital."
He added: "For too long the lack of an overarching spatial planning framework for London and the South East has made region-wide issues with long-term consequences impossible to address. The challenges of redefining the London City Region post-pandemic and proactively addressing climate change are not being looked at holistically. As the mayor and Government plan the priorities to support the capital's recovery from the pandemic, there needs to be a co-ordinated plan. We need to make bold moves that focus on compact growth in the city and embrace the interconnected future of the wider metropolitan region."