News
Updated Apr 23, 2021
Surrey Chainsaw Tree Massacre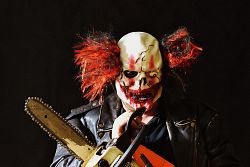 In what we at Cedrec HQ are dubbing the 'Surrey Chainsaw Tree Massacre', police officers have arrested a man they believe to behind the senseless destruction of over 50 trees in the Surrey area.
On 21 March, local residents, council officials, and the police were left in disbelief when someone began felling a series of trees along a two-mile stretch of the banks of the River Thames between Walton-on-Thames and Weybridge, Surrey. Most of the poor victims were mature trees with some more than 20 feet tall. Some of the felled trees were also memorial trees, planted by families in memory of a loved one.
Local resident Anthony Cilia who was one of the first to spot the damage was left baffled by the needless act, commenting: "Why this person is doing it is beyond me. There are plenty of wooded areas nearby to go to, but for some reason, they are choosing to do it in a public area on the banks of the river. Not only is it a blight on an area the council has spent several millions of pounds on improving, but more importantly, it's dangerous."
The police had initially struggled to catch the perpetrator, but worked with a newly-formed residents action group and increased night time patrols in the area to find the suspect. Now Surrey police have confirmed they have arrested a 24-year-old male on suspicion of criminal damage after he was found with chainsaws in his van.
They praised the response of local residents in helping with their inquiries: "Surrey police received a fantastic response from residents who contacted us with information, allowing investigating officers to identify a vehicle they believed to be connected. Last night, this vehicle was stopped. Searches carried out in the suspect's car and home address found several chainsaws and wood chippings. The man was arrested and remains in custody."