News
Updated Apr 29, 2021
Challenge to continue remote meetings dismissed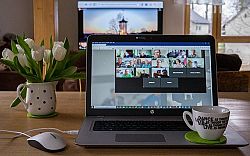 Under the Coronavirus Act 2020, local authority meetings, including planning committee meetings, have been held virtually in order to help stop the spread of Covid-19.
Provisions of the Coronavirus Act 2020 that allow this will come to an end on 6 May and the Local Government Act 1972 will again require councillors to be present to decide applications.
The Association of Democratic Services Officers (ADSO), Lawyers in Local Government (LLG) and Hertfordshire County Council wanted the period for virtual meetings to be extended but this has been dismissed by the president of the Queen's Bench Division, Dame Victoria Sharp, and Mr Justice Chamberlain.
Support was strong for the option of virtual meetings, with a survey by the Lawyers in Local Government Group finding that 75% of its members were in support of hybrid meetings continuing.
The court said:
"In our view, once the flexibility regulations cease to apply, such meetings must take place at a single, specified geographical location; attending a meeting at such a location means physically going to it; and being 'present' at such a meeting involves physical presence at that location. We recognise that there are powerful arguments in favour of permitting remote meetings. But, as the consultation documents show, there are also arguments against doing so. The decision whether to permit some or all local authority meetings to be conducted remotely, and if so, how, and subject to what safeguards, involves difficult policy choices on which there is likely to be a range of competing views. These choices have been made legislatively for Scotland by the Scottish Parliament and for Wales by the Senedd. In England, they are for Parliament, not the courts."
John Austin, Chair of ADSO, John Austin said about the judgement:
"In view of the level of support for the option of remote meetings, the LLG and ADSO are very disappointed at the decision of the court to refuse to support the updated interpretation we proposed which would have enabled councils to continue providing the option of remote attendance."
"We recognise that this will be a great disappointment for many across the sector and we will now direct our energy, and the momentum that has been generated, into lobbying Government to quickly bring forward the necessary legislation to overcome this impasse and to ensure that councils have local choice to determine the methodology by which meetings can take place. Not just during the pandemic, but for the long term, in perpetuity. The Government's call for evidence is currently open. It is vitally important that you respond to that call and ensure our voice continues to be heard."