News
Updated Mar 17, 2023
Tomorrow is Global Recycling Day 2023!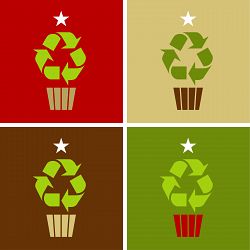 Tomorrow (Saturday 18 March) is Global Recycling Day, and the Global Recycling Foundation has announced this years theme as 'Creative Innovation'.
Global Recycling Day was created in 2018 to help recognise, and celebrate, the importance recycling plays in preserving our precious primary resources and securing the future of our planet.
The aim of Global Recycling Day
It is a day for the world to come together and put the planet first.
The mission of Global Recycling Day, as set out by the Global Recycling Foundation, is to:
tell world leaders that recycling is simply too important to not be a global issue, and that a common, joined up approach to recycling is urgently needed;
ask people across the planet to think resource, not waste, when it comes to the goods around us. Until this happens, we simply will not award recycled goods the true value and re-purpose they deserve.
Recycling Heroes 2023 award
The Global Recycling Foundation is also running the Recycling Heroes 2023 award, and invited nominations for people, places, businesses and activities that have continued to support the recycling effort. Winners will be chosen from across the globe and each one will be awarded a prize of US $1,000, and will feature on the Foundation's social media channels.
There are plenty of ways to get involved in Global Recycling Day by organising your own events and sharing activities on social media to promote the day.
The Foundation is also seeking inventiveness when it comes to recycling waste, so will be giving away an additional 10 prizes totalling US $250 to those who can come up with the most creative ways to reuse commonplace products.
If waste is recycled into usable products like furniture, clothing, tableware or building materials, it may be a powerful image, work of art, or concept for a new commercial use. They will be looking for a submission that is simple to adapt for all nations and will have an impact on struggling economies.
How to get involved
Here are some ways to get involved in Global Recycling Day:
take time to learn about the recycling process, what can and cannot be recycled, and how recycling helps to reduce waste and conserve resources;
take action by making small changes in your daily routine, such as using reusable bags and water bottles, reducing food waste, and properly disposing of hazardous materials. You can also participate in local recycling programs and volunteer for community clean-up events;
use social media to share information about recycling and promote the importance of sustainable practices. Encourage friends and family to also get involved and make a difference;
check for local events and activities for Global Recycling Day such as recycling drives, workshops, and community clean-up efforts. You can also organise your own event or activity to promote recycling in your community.
Ranjit Baxi, president of the Global Recycling Foundation, said: "The whole world is going through difficult economic times and many countries are suffering the consequences of climate change".
"It is vital that everyone should play their part, and recycling is an important element in the struggle against global warming. In past years our Recycling Heroes have demonstrated that every individual and business great or small can have a positive impact".