HSE NI issue emery cloth safety alert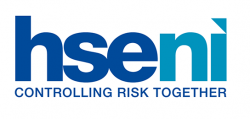 The Health and Safety Executive for Northern Ireland (HSE NI) have issued a safety alert to raise awareness on the associated risks from the use of emery cloth around rotating machinery.
Emery cloth is often used to polish, deburr or size a wide range of metal components while they are situated in the rotating chuck jaws of a lathe. This can cause serious accidents when hand-held emery cloth becomes entangled in the rotating parts and can drag the operator into the danger zone causing serious injuries or even fatalities.
The safety alert states that where a risk assessment has determined that using an emery cloth on manual metal working lathes is the more practicable method of polisihing, deburring or sizing components, then employers need to ensure acceptable methods are used for the task.
Acceptable methods for both external and internal work are detailed in the safety alert with accompanying videos to demonstrate.
It is never acceptable to apply emery cloth directly by hand on a rotating CNC or manual metal working machine. This is a dangerous practice and could result in a serious incident. Wearing gloves to carry out this task only increase the risk of entanglement, and the HSE NI state this is never acceptable near rotating parts of machinery such as manual metal working lathes.
Employers should ensure that they:
provide information, instruction and training to operators and supervisors on the dangers of using emery cloth;
provide appropriate training on how to use emery cloth safely to the machine operators;
make sure supervisors take appropriate action if they observe unsafe practices;
eliminate the use of gloves for this task.
It is important that machine operators in undertaking this work:
wear well fitting overall with ideally elasticated cuffs;
avoid loose, baggy clothing and ties;
tie back or secure long hair;
remove any jewellery such as rings.
For more information, see: