News
Updated Mar 30, 2022
New exemption for solar panels in London borough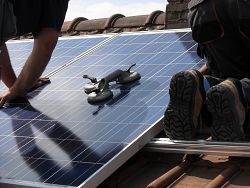 Residents of listed homes in the London borough of Kensington and Chelsea will now be able to have solar panels fitted on their homes without applying for individual planning consent from the council.
There are around 4,000 listed buildings in the borough, and building owners had to seek individual listed building consent to install solar equipment.
However in a first of its kind, the Kensington and Chlesea council has introduced a planning order that exempts listed buildings from requiring building consent for the installation of various kinds of equipment. This includes the installation of solar tiles or slates, or solar thermal panels, on grade II and most II* listed buildings. The planning order specifies conditions about the positioning, materials and fixings that can be used in order to protect the appearance and fabric of listed buildings, and says their installation will require just a simple application from now on.
The council hope that this move will help to promote green energy in the borough and reduce their reliance on carbon heavy fuels.
Lead member for planning, place and environment at Kensington and Chlesea council, Johnny Thalassites, commented: "We need to be innovative to tackle the climate emergency and I'm proud that we're the first council to introduce a planning order to make solar power a realistic choice for more people."
"Removing barriers to green energy is vital because 80% of the borough's carbon emissions come from buildings. With 4,000 listed buildings in Kensington and Chelsea, we'll need more of these homes and businesses running on renewables if we are going to be carbon neutral by 2040. Protecting the unique character of our borough and its beautiful buildings is important and we know that solar panels can be installed without being visible at street level and without causing any damage to the building."