UK government is failing to cut greenhouse gas emissions from heating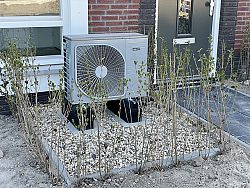 A cross-party committee of MPs has warned the UK government that the current policies and lack of clear plans to end reliance on gas to address the issue of rising energy prices and the commitment to net-zero carbon emissions by 2050.
At the moment, home heating is responsible for around 14% of the UK's carbon emissions, and 80% of domestic heating is powered by gas boilers. Last year the government ministers announced a Heat and Buildings Strategy which aims to phase out the installation of natural gas boilers by 2035 and replace them with more sustainable solutions, such as heat pumps or green hydrogen.
The Business, Energy and Industrial Strategy select committee said that the strategy did not specify how these improvements would be implemented and the government "lacked clear direction" on the issue, as well as the inadequacy of the policies to the scale of the problem.
As the energy prices are at an all-time high, the government is considering financial measures to reduce the impact on consumers. The analysts say that the introduction of renewable energy in the form of wind farms, solar panels and heat pumps brought down energy costs in the UK, and the heavy reliance on natural gas is behind the current energy price hike.
Speaking with the Guardian, Jan Rosenow, a director at the Regulatory Assistance Project said: "Shifting away from fossil fuels is the only real solution to the energy price rises. The alternative is to keep using fossil fuels, and then we will see this again and again."
Darren Jones, head of the cross-party committee said: "Replacing gas boilers is a huge task and we are not making anywhere near enough progress . . . Bill payers today are deeply worried about their energy costs, with many people struggling to afford to heat their homes.
"Most people don't realise that their gas boiler will need to be replaced within the next ten to 15 years. The government and energy companies should explain to bill payers why switching away from gas and insulating our homes is not only important in tackling climate change, but also a route to reducing energy bills. The government also needs to spell out what financial help will be put in place for those who need it most."
The government's strategy set out a target to install 600,000 heat pumps a year by 2028, but currently, only a few thousand are being installed across the UK annually.