News
Updated Feb 28, 2022
IPCC publishes latest climate report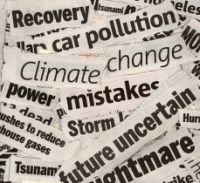 The Intergovernmental Panel on Climate Change (IPCC) has published the second instalment of their Sixth Assessment Report. The Working Group II report looks at the impacts of climate change on nature and people around the globe, and explores future impacts at different levels of warming and the resulting risks. It also offers options to strengthen nature's and society's resilience to ongoing climate change.
Unfortunately, the report serves to highlight the serious situation we face when it comes to climate change. Human-induced climate change is causing dangerous natural disruption. This will, and is, affecting the lives of people across the world, despite measures already in place to reduce the impacts. It also shows that the humans and ecosystems that are least able to cope are being hardest hit.
Professor Debra Roberts, co-chair if the IPCC said, "Our report clearly indicates that places where people live and work may cease to exist, that ecosystems and species that we've all grown up with and that are central to our cultures and inform our languages may disappear. So this is really a key moment. Our report points out very clearly, this is the decade of action, if we are going to turn things around."
The report, which is over 3,600 pages long, sets out, amongst many other things, that:
between 2010-2020, deaths caused by floods, droughts and storms were 15 times higher in vulnerable regions than in other parts of the world;
extreme weather events linked to climate change are hitting humans harder than previously thought;
some climate impacts are already beyond the ability of some to cope;
at the current level of warming, nature is already seeing dramatic impacts, such as coral bleaching and vegetation loss due to drought;
about half of the living organisms assessed are already moving to higher ground or towards the poles.
It also looks at future issues unless we can slow down and stop the temperature rises, which currently sits at around 1.1°C. This includes:
the possibility that rising sea levels could threaten coastal settlements and a billion more people could be at risk from coastal specific climate hazards in the next few decades;
a risk that half of the human population could be exposed to some form of life-threatening climatic conditions due to heat and humidity if temperature rise reaches 1.7°C above 1850s levels;
a likelihood that disease could spread more quickly;
a possible extinction of up to 14% of species if the world warms by 1.5°C, rising to 29% if the temperature rise hits 3°C.
The report even states that crossing the 1.5°C threshold, even temporarily, contains dangers, such as thawing of permafrost which would be almost impossible to reverse.
Although the report is extremely detailed and looks at several different issues, it is clear that climate change could be potentially devastating to the planet, unless temperature rise is stopped in order to prevent a potentially cascading series of issues.
It is important not to ensure that climate adaptation and resilience is effective, and prompt.
For more information, see the:
IPCC Sixth Assessment Report, Working Group II contribution, available here.