British farmers told to cut meat and dairy output by a third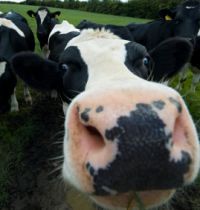 The Land of Plenty report published by the World Wide Fund for Nature (WWF), acts as a blueprint for how the agriculture and land-use sectors can help fight climate change.
WWF has said despite the UK government setting ambitious and welcome climate and nature commitments, there is no shared vision for what our landscapes will look like in a net-zero world, and a lack of detail regarding the role of agriculture and land-use.
The UK Net Zero Strategy set out "unambitious emissions reduction plans" for agriculture, land use and food sectors, with "little clarity" on the policies to meet those targets. The organisation is calling on the UK government to urgently set out their own decarbonisation strategies for agriculture and land-use, as part of their commitments to net-zero and nature's recovery.
The report aims to fill in some of the detail and consider what the agriculture and land-use sectors across the UK need to do to put us on a nature-positive pathway to meet our climate commitments in 2030 and beyond. WWF concluded it is possible and necessary to:
reduce UK direct agricultural greenhouse gas (GHG) emissions by at least 35% by 2030 and 51% by 2050 on 2018 levels;
switch UK land from a net source of GHG emissions to a net sink by 2040 at the very latest;
halt and reverse the loss of UK nature by 2030;
cut UK farming's overseas carbon footprint, particularly relating to soy feed and fertilisers inputs, by at least 31% by 2030 and 57% by 2050 on 2018 levels.
WWF's analysis shows that reducing emissions from agriculture and land-use should start with the principle of seeking to use the land for nature's benefit as well as for climate reasons. Regenerative farming practices, tackling nitrogen waste and restoring nature-rich ecosystems all have a part to play, with shifts in diets needed to support this.
The report also acknowledges the need to address more than just domestic emissions, particularly the use of land and emissions associated with producing the animal feed and artificial fertiliser we import, so that we are only exporting high-quality meat and vegetables, not offshoring our emissions and impacts on nature.
WWF have produced 10 key areas for action that the UK government can take to deliver these emission reductions in ways that also help to recover our wildlife:
set agriculture and land use decarbonisation strategies;
account for and reduce UK's global food footprint;
reduce nitrogen waste and methane;
set world-leading agricultural payment schemes and advice;
deliver land-use frameworks with community co-design;
protect and restore natural ecosystems;
accelerate shifts to healthy diets;
create new core environmental standards;
agree common baselines and metrics; and
reform the wilder food system.
They recognise that farmers must be supported throughout this food and land-use system transition, and their efforts not undermined by lower-standard imports or supply chain demands.
Tanya Steele, chief executive of WWF, said: "If we are serious about tackling the twin threats of climate change and nature loss, farming and land use can't be an afterthought. Many UK farmers are already using their skills and expertise to produce food as sustainably as possible, but they won't be able to fix a broken system on their own".
However, George Dunn, chief executive of the Tenant Farmers Association, rejected the need for drastic cuts to UK meat and dairy production and argued that "the vast majority of farmers understand the responsibility on them to both produce great food and as custodians of the environment. Our livestock farmers manage carbon in their soils on our behalf every day of the week and deserve our support, not our criticism. In fact, we should be eating more meat and dairy products from UK sources to offset what we import to reduce our carbon footprint".
Vicki Hird, head of sustainable farming at the campaigning organisation Sustain, commented: "The government could help by incentivising the production of sustainable, pasture-fed beef and only choosing less but better meat and more plants in public procurement contracts. The government spends £2bn a year on food and could be a lot smarter and do a lot more good with what it buys".
For more information on this subject, see: