News
Updated Feb 12, 2021
Target set for net-zero Wales by 2050 or sooner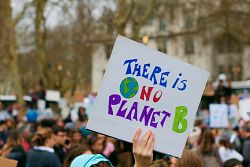 On 9 February 2021, the Welsh Government set a legal commitment to achieve net-zero carbon emissions by 2050, but it's also pushing to "get there sooner" and "business as usual" is no longer an option.
This move brings Wales in line with the general target for the UK to become carbon-neutral by 2050. The Welsh Ministers accept that achieving this will not be an easy job, where an overhaul on domestic heating, transport and finding new ways of making steel without burning fossil fuels is needed in a short time. The net-zero target also relies on the development of a new technology of carbon capture and storage.
The new plan also covers removing greenhouse gas emissions from the public sector by 2030.
The process is hoped to create lots of new green jobs, while improving the air quality and people's health by eliminating other pollutants accompanying burning of fossil fuels such as coal, wood, gas and diesel or petrol.
The Welsh Government aims to publish a revised action plan before the COP26 takes place this year in Glasgow.
Speaking about the commitment, the Minister for Environment, Energy and Rural Affairs, Lesley Griffiths said: "We are very grateful to the Committee on Climate Change (CCC) for its work on these reports, which not only note those actions we have taken in the past to move Wales towards a net-zero status, but also recognise that we have not been diverted from our climate commitments despite the worst impacts of the Covid-19 pandemic."
"Recent years have seen us take actions which push at the limit of our devolved powers. Our approach in many areas from housing to international co-operation, and from transport to public engagement, we have been prepared to use our convening and influencing power to drive positive action beyond the limits of our regulatory role, taking an assertive approach within the devolution settlement.
"We are pleased that the commitments and progress we have made have been recognised, yet both we and the CCC also recognise that there is more to be done. To achieve our goals and to continue to exceed expectations we have to mobilise a collective effort involving communities and businesses as well as government at all levels.
"With global temperatures set to rise even further, and the increased likelihood of severe weather events in Wales and damage to the natural ecosystems which are the foundation of our wellbeing, it is important to realise every reduction to emissions we can achieve will make a difference.
"We will now consider the CCC's advice alongside other information ahead of updating our climate legislation early next year."