News
Updated Feb 10, 2021
BBC fined over Planning Court blunder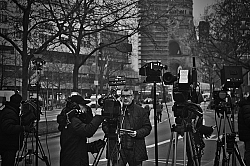 The BBC has been fined £28,000 after it made a video and audio recording of a hearing in the Planning Court.
Mr Justice Holgate had been hearing arguments through Microsoft Teams on the first day of a two-day judicial review of a decision by Surrey County Council to grant planning permission to UK Oil and Gas to carry out "fracking" operations at a site at Horse Hill, near Horley.
On the evening of 17 November 2020, BBC South East Today broadcast in its 18.30 and 22.30 news bulletins a special report on the Horse Hill case. This included a short six-second clip from the video. All of this was done without the knowledge or consent of the Planning Court.
Recording and broadcasting proceedings from courts in England and Wales is prohibited.
The BBC admitted to the Divisional Court that this behaviour was a breach of the statutory prohibitions on making and transmitting unauthorised recordings of court proceedings, and therefore involved at least two criminal offences. The Divisional Court said that in its judgment the number and seriousness of the breaches made this a case of contempt of court.
Lawyers acting for the BBC described the clip used as "wallpaper" to help illustrate the news report. Although there was audio, nothing of what was being said could be made out clearly.
In the High Court ruling, two senior judges said the problem "could and probably would have been avoided" if the BBC had taken more "proactive steps" to make sure journalists were aware of the rules.
The report was quickly removed from the BBC iPlayer, and a memo circulated following the broadcast to journalists at the BBC setting out restrictions on filming and broadcasting court proceedings.