News
Updated Jan 25, 2022
RTPI Cymru publishes study into sustainable rural living in Wales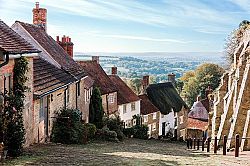 RTPI Cymru has published a report entitled "Living Locally in Rural Wales" which explores living in rural areas in Wales and what role the planning system can play in supporting sustainable local living in Wales. The idea being that staying local can result in less vehicle use, decarbonisation and also result in better placemaking within rural communities.
The report takes inspiration from a concept created by Carlos Moreno in 2016, whereby everyone in an area, regardless of age or ability, can access what they need within a distance of a 15 minute walk or bike ride. At the centre of this idea is sustainable living and connected places, where local residents don't have to rely on a private vehicle. It also promotes a sense of community and ownership. However, the 15 minute city concept was an urban model, not a rural one.
Assessing whether it can be applied rurally, the paper specifies there are substantial challenges, including implementation, local policy frameworks, local engagement, behavioural change and investment. However, the report suggests that the following could be done:
strengthen local, regional and national planning policy in order to promote the idea of living locally to deliver sustainable development;
make sure the planning system is more focussed on outcome measurement to support the delivery of sustainable places;
provide more funding and resources for local planning authorities to ensure vital services are resourced;
support joint working amongst different people to align goals, investment and indicators;
develop digital and technological advancements in local areas wherever possible, rather than using larger regional or national distribution centres for goods and services;
increase the connectivity of rural locations to services and facilities;
increase support for local planning tools, such as community engagement and community led plans;
share resources and good practice across rural authorities.
Rhian Brimble policy officer at RTPI Cymru, commented: "Heightened by the pandemic, planners and stakeholders are looking at alternative methods for addressing pressures and opportunities in rural areas, as well as tackling key issues such as the climate, the environment, the economy, society and health.
"The 15-minute neighbourhood model aims to encourage and support communities to access their daily goods and services locally, by sustainable means. This, of course, becomes more complex in a rural context. The paper therefore considers the concept, without the set measure of a time frame or distance, using 'local' as a more fluid term.
"This paper aims to initiate a discussion in Wales on the opportunities, and different impacts of living more locally in rural Wales and how planning can embrace this."
For more information, see: