Cedrec Environment & Safety Homeshow 2023
---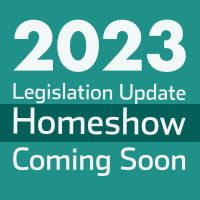 Cedrec's Environment & Safety Homeshow will be an online webinar in May 2023.
It will be around 1 hour, and it will be a combined environment and health and safety session.
As usual, we'll take a look at all new legislation, guidance and policy you might have missed from 2022, and what you've got to look forward to in 2023.
I know we were all hoping for a nice quiet 2023, but with the Retained EU Law (Revocation and Reform) Bill looming on the horizon, and fears of a "deregulatory free-for-all", you're going to need to know what's going on!
We'll pick up any questions you have throughout the event too, using the webinar software to answer your queries in real time, making it as interactive as possible.
Cost and payment

The Homeshow will cost £30 per person.
Payment must be made by credit card only.
We'll require payment from you before you access the webinar.
When is it?
To make things as easy as possible for you, we're going to run two webinars in May.
The content in each one will be the same, so just book whichever one suits you best.
We'll make the webinar available to you after the date too, so you don't need to worry if you miss it live.
How do I book?
You can use our normal booking system to reserve your place.
Just pick the date that suits you best from the options below and fill in your details!
Or maybe you fancy a little more?
We're also running a series of in-person events in April.
If you've not been to our Roadshow before, its along the same lines as our Homeshow. Just, well...bigger! Its a longer event than our online version. So you'll get more detail and more information. There's also more time to take advantage of Richard, Gareth and Neil's fountains of knowledge! We'll all be about before and after the sessions, and during the breaks too - so come and have a chat with us one-to-one and ask us about Cedrec and what it can do for you, or just anything that's been niggling away at you.
You can find out more here.
This presentation will be given at the following locations:
| City | Venue | Date | Time | Price | Flyer (PDF) | Register | |
| --- | --- | --- | --- | --- | --- | --- | --- |
| Webinar | Webinar | May 10, 2023 | 13:00 | £30.00 | - | | |
| Webinar | Webinar | May 11, 2023 | 13:00 | £30.00 | - | | |