Barbour Consolidated Environment & Safety Roadshow 2023
---
Our annual Legislation Update Roadshow is back in April 2023 for the 9th time!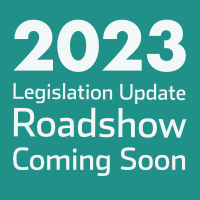 Same as the last couple of years, it will be a combined environment and safety event. As usual, we'll take a look at all new legislation, guidance and policy you might have missed from 2022, and what you've got to look forward to in 2023.
I know we were all hoping for a nice quiet 2023, but with the Retained EU Law (Revocation and Reform) Bill looming on the horizon, and fears of a "deregulatory free-for-all", you're going to need to know what's going on!
Come along and pick our brains
If you can't make the dates, or you want a little Scotland, Wales and Northern Ireland content too, we'll also be running our online Homeshow.
Its worth flagging up though, that the in-person Roadshow is a longer event than its online version. So you'll get more detail and more information. There's also more time to take advantage of Richard, Gareth and Neil's fountains of knowledge! We'll all be about before and after the sessions, and during the breaks too - so come and have a chat with us one-to-one and ask us about Cedrec and what it can do for you, or just anything that's been niggling away at you.
Cost and payment

The Roadshow will cost £40 per person to attend.
Payment must be made by credit card only.
Start time and more information
As we're running a combined environment and safety event, it will just be one session in the morning.
Turn up at 9.30am to get registered and grab a cuppa!
To see more information about the venues, and for the full agenda for the day, including what time we'll finish, just click the venue link in the table below.
Details on what to do if you have any dietary requirements will be in your confirmation email after you've signed up.
Agenda
- 9.30 am Registration, Coffees & Breakfast
- 10.00 am Safety Update
- 11:00 am Safety Q & A
- 11.10 am Break & Refreshments
- 11.25 am Environment Update
- 12.25 pm Environment Q & A
- 12:40 pm Finish
Changing guidance and restrictions
We're not expecting any issues, but because of the last few years we're very mindful that the events may need to change in light of any new restrictions, so we're continuously monitoring the situation and guidance.
If venues have any particular restrictions in place, or some wider public health measures are in force at the time of the Roadshow, we'll let you know as soon as possible and keep you updated.
Refund policy
As venues and catering need to be booked well in advance, we can't offer any refunds on places booked.
However, if you cant attend drop us an email and we can swap you on to our online Homeshow instead.
We look forward to seeing you!