Cedrec Homeshow 2021 - Environment & Safety Video Only
---
This is a recording of a Cedrec event. You will receive a link to the video and materials upon completion of your purchase.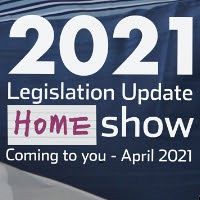 Normally by now our Legislation Update Roadshow is all done and dusted, and we're back in the office getting stuck into our day jobs.
Our plan for 2021 was always to run it a little later than normal, to get the Brexit transition period out of the way so we could provide some analysis on how things were looking. But COVID-19 added several layers of complication!
So, for this year and this year only, the Roadshow became a Homeshow…
Recorded webinar
We originally ran the event as online webinars in April, this is a recorded video of those webinars.
It is a combined environment and health and safety session, lasting around 1 hour.
No separate sessions this year.
The format is exactly what you're used to; a look back over all the important legislation from 2020, and a look forward to what's coming up in 2021. We take you through all the changes from Brexit to COVID and everything in-between.
There's a Q&A section at the end too, which collates all the questions asked during the live webinars.
As usual, we'll also provide you with a copy of the slides and a CPD certificate.
Cost
The Homeshow video will cost £25 per person.
How do I purchase?
You can use our normal booking system to purchase the Homeshow video.
Just click the option below and fill in your details!
Please note, we only accept online payments, made via Stripe. This is the only way you can pay for the video.
| Product | Price | Register | |
| --- | --- | --- | --- |
| Cedrec Homeshow 2021 - Environment & Safety Video Only | £25.00 | | |