Cedrec events
Cedrec runs and appears at a number of events over the course of the year. Here's where you can take a look at our scheduled appearances.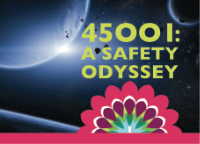 We're on a journey, visiting four cities across the country, to deliver a seminar on the new ISO 45001 standard, and what you need to know.

Keeping up with legislation whilst you're juggling your role in environment can be a tricky skill to master.
Luckily, Cedrec is here to make it so much easier to do just that, with our half-day Recharge sessions.

Recharge your knowledge with our short course on Energy.

Safety legislation can be difficult to keep up with, and the consequences of non-compliance can be tragic in the worst scenarios and expensive in the best.
This half-day course will Recharge your knowledge on your obligations, compliance needs and other important aspects of legislation you need to know.

After much anticipation, ISO 45001 has arrived!
This half-day course will take you through the fundamentals in ISO 45001, so you know what you need to do to migrate your OHSAS 18001 management system to the new standard.

Are you new to the role of "safety manager"? Have you had extra responsibilities thrown your way, like a safety management system? Relax! Cedrec have the course for you!
This one day session will take you through key elements of OHSAS 18001, a run through of the legislation you need to worry about, and how organisations can use OHSAS 18001 to manage the safety risks and deliver improvements and well-being.
A review of the upcoming ISO 45001 is included, to make sure you're ready to transition to the new standard.

Do you feel the need to freshen up your waste know-how? Recharge your knowledge with our short course on waste.

Our monthly online demos are perfect if you've added extra users to your subscriptions, or just want to refresh your memory of our system.
Book now for our Online session on May 3, 2018.

This course will take you through the fundamental changes made in ISO 14001:2015, to make sure you know what is needed to transition effectively.

Are you a new environmental manager? Have you just been given responsibility for your company's management system?
Don't worry, our Environmental Manager Support course will prepare you for your role.

In a pickle over permitting? Our short course on environmental permitting is sure to help.