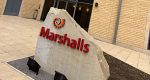 Marshalls rely on Cedrec for environmental compliance
PRESS INFORMATION
Marshalls rely on Cedrec for environmental compliance
17 February 2016
Legislation analysts Cedrec has collaborated with leading hard landscaping manufacturer Marshalls for environmental compliance.
Marshalls recognised it needed Cedrec's advice and expertise as it faced a major implementation programme to comply with new ISO 14001 standards across its UK network of 49 sites.
There were significant amounts of environmental legislation to consider such as pollution prevention and control, water pollution, wildlife and biodiversity, energy, waste management, statutory nuisance control and hazardous substances management.
The key compliance challenges for Marshalls were firstly to understand the whole operation and its interactions with its stakeholders. Undertaking site audits with Cedrec was pivotal in achieving this as it identified all applicable legislation and highlighted a number of areas for improvement, thereby reducing risk to the business.
To drive environmental performance and compliance, it was felt that specialist external input would be of great benefit enabling Marshalls' Environmental Management System (EMS) to really add value to the business. Cedrec was chosen as Marshalls had for a number of years already been subscribing to the firm's online guidance service. This was simple to follow and apply to the business due to Cedrec's ability to convey legislation requirements in an easy to understand manner.
The collaboration with Cedrec unfolded from an initial site visit to Marshall's Eaglescliffe facility on Teesside to assess how to improve the EMS, whilst considering the impending release of ISO 14001:2015.
A framework was constructed to roll out a number of site investigations covering precast concrete, minerals extraction and processing, mortar batching and street furniture production. From there, a full register of legal requirements was constructed, which Cedrec updates 3 times per annum and a suite of environmental policy documents were constructed following the key legislation themes.
Cedrec's site visits to Marshalls, which will be maintained throughout 2016, offered a fresh insight into the varied operations and processes across the group. Sustainability is one of Marshalls' core values, therefore environmental performance plays a significant role. The other core values of leadership, excellence and trust are also demonstrated in this approach to environmental management.
Matthew Gibb, group environment and water manager at Marshalls, said: "Our partnership with Cedrec allows us to have greater confidence when approaching environmental legislation and compliance.
"As legal updates are managed and issued by Cedrec, we are able to prioritise areas of our EMS for improvement and concentrate on business projects, site and performance monitoring and sharing best practice across the group.
"Cedrec helped us tailor the legal register to best suit the business and provided user friendly internal environmental policy documents, followed by the development of proactive ways to demonstrate compliance and promote best practice.
"Awareness of any potential future changes to environmental legislation is key for Marshalls to risk and plan ahead, ensuring that we will not be caught out by changes in legislation. Going forward, we will be working with Cedrec to harmonise those business and operational aspects that impact on our environmental policy, allowing us to further demonstrate the 'top down' approach as laid out in ISO 14001:2015."
Cedrec specialises in providing public and private sector organisations with help and advice in understanding, interpreting and complying with environmental, planning and health and safety legislation. The company offers a range of specialist consultancy and subscriptions services.
ENDS
Photocaption: Cedrec has improved environmental compliance at hard landscaping manufacturer Marshalls
Media enquiries: Andy Bruce, MHW PR Ltd. Tel: 0191 233 1300. Fax: 0191 233 9530. Email andy@mhwpr.co.uk
Notes to editors
About Cedrec
Sunderland-based Cedrec takes environmental and safety legislation from the UK and Europe and makes it easy to understand.
Specialising in both subscriptions and as consultants, they can help you with legal compliance if you have a management system like ISO 14001 or OHSAS 18001 in place, or you're working towards one.
Cedrec's online system is updated daily as new legislation and policy comes in. As a subscriber, customers can locate and access all the information required using a unique structure, clear menus and custom built search engine.
A one-to-one consultancy service covers key aspects of management systems including legislation compliance reviews, registers of legislation, gap analysis, aspects and impacts and even desk research.
Environmental legislation: Cedrec Environmental provides plain English information on legislation to enable subscribers to understand and stay up-to-date with ever changing environmental law and its implications. Cedrec Environmental is beneficial to all organisations but especially those seeking to gain or maintain accreditation to ISO 14001 or similar environmental management systems.
Health and Safety legislation: Arranged in an accessible format, Cedrec Health & Safety provides a constant source of reference and assurance for all industries. This includes summaries, amended full text, ACOPs and Guidance for both members and non-members of IOSH.
Cedrec Planning: Offering advice and guidance to individuals, companies and organisations who are seeking planning permission for development projects to navigate the minefield of ever shifting UK planning law.
About Marshalls
Marshalls is a leading UK hard landscaping manufacturer and also undertakes mineral extraction and processing, precast concrete paving, drainage and walling, mortar and street furniture manufacturing. It has supplied some of the most prestigious landmarks in the UK with hard landscaping solutions since 1880s. Marshalls strives to improve environments for everyone by using its expertise to create integrated landscapes that promote well-being, from using fairly traded stone and providing products that alleviate flood risks, to creating innovative anti-terrorist street furniture.