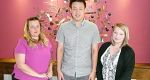 Further Expansion for Sunderland-based Consultants
PRESS INFORMATION
Further expansion for Sunderland-based consultants
Legislation consultants and analysts Cedrec are continuing to flourish with the appointment of three new faces to its sales and writing team.
The company has appointed Natalie Dixon as business development executive and Georgia Houghton and Adarsh Rai as writers.
Cedrec, who employ 18 people and with a turnover in excess of £700,000, specialises in providing public and private sector organisations with help and advice in understanding, interpreting and complying with environmental and safety legislation from its base at Sunderland's North East Business Innovation Centre.
Natalie joined Cedrec in June 2015 with a background in social media marketing, external relations management, content marketing and offline marketing support. Natalie has previously worked at Unity4UK, UtilityWise and T-Mobile as well as a freelance virtual assistant in both public and private sectors.
Georgia Houghton joined the company in August on a rolling placement from the University of Sunderland, having just completed her first year of a LLB Law (Qualifying) degree and will be working on a project to add EU full text to legislation summaries. Georgia will return to Cedrec at various points throughout her studies, gaining experience in a related field which will help her achieve employment either with Cedrec or a similar company.
Adarsh, originally from Kenya and about to embark on the final year of an Urban Planning degree, joined Cedrec on a summer placement from Newcastle University. Adarsh will assist Cedrec in creating a new planning system and helping with proofreading. Like Georgia, Adarsh will gain worthwhile experience in a field similar to his degree and assists the company during a busy period.
Neil Howe, senior legal author at Cedrec, said: "We are absolutely delighted that we have been able to bring onboard Natalie, Georgia and Adarsh. This is an exciting period of expansion for Cedrec and the skills and experience these new faces bring us will be invaluable in helping with existing projects and broadening our offering to secure new sales."
More at www.cedrec.com
Ends
Media enquiries: James Dunbar, MHW PR Ltd. Tel: 0191 233 1300. Fax: 0191 233 9530. Email james@mhwpr.co.uk
Notes to editors
About Cedrec
Cedrec specialises in providing public and private sector organisations with help and advice in understanding, interpreting and complying with environmental and safety legislation. The company offers a range of specialist consultancy and subscriptions services. At a glance:
Sunderland-based Cedrec takes environmental and safety legislation from the UK and Europe and makes it easy to understand.
Specialising in both subscriptions and as consultants, they can help you with legal compliance if you have a management system like ISO 14001 or OHSAS 18001 in place, or you're working towards one.
Cedrec's online system is updated daily as new legislation and policy comes in. As a subscriber, customers can locate and access all the information required using a unique structure, clear menus and custom built search engine.
A one-to-one consultancy service covers key aspects of management systems including legislation compliance reviews, registers of legislation, gap analysis, aspects and impacts and even desk research.
Environmental legislation: Cedrec Environmental provides plain English information on legislation to enable subscribers to understand and stay up-to-date with ever changing environmental law and its implications. Cedrec Environmental is beneficial to all organisations but especially those seeking to gain or maintain accreditation to ISO 14001 or similar environmental management systems.
Health and Safety legislation: Arranged in an accessible format, Cedrec Health & Safety provides a constant source of reference and assurance for all industries. This includes summaries, amended full text, ACOPs and Guidance for both members and non-members of IOSH.