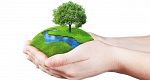 World Environment Day - Time for Nature
Published: 04 Jun 2020
Friday 5 June is World Environment Day. This annual event is the United Nation's flagship day for raising awareness and promoting action for the environment.
The theme for this year is "Time for Nature", and is one that is believed to be particularly poignant in light of the current coronavirus pandemic.
Biodiversity is the cornerstone of all life on Earth, and this current pandemic has further highlighted the rate at which we are destroying biodiversity. It is estimated that around one billion cases of illness and millions of deaths occur globally every year from diseases caused by coronaviruses. Further still around 75% of all emerging infectious diseases in humans have been transmitted to people by animals. With many scientists and environmentalists telling us that nature is sending us a clear message.
The actions of humans from intensified agriculture, encroachment on wildlife habitats, deforestation, and climate change, are all pushing nature beyond its limit. Scientists claim we need 1.6 Earths to meet the demands on nature humans inflict every year.
This unsustainable path we are on will lead to further damage to nature and biodiversity loss. In turn this will have a severe impact on the human race, leading to the collapse of food systems as well as an impact on health.
So this World Environment Day, the United Nation's wants to engage all of us, individuals, businesses and Governments, to come together and make real changes to protect nature and promote biodiversity worldwide.
This years event has been moved predominantly online due to the coronavirus pandemic, but there are plenty of ways for everyone to get involved and make a real difference.
The UN's World Environment Day website, provides links on everything you need to get started. Here you can find a schedule of events happening around the world, as well as hearing from different organisations, Governments and individuals sharing what action they have taken to promote this important cause. #ForNature is the main Twitter handle being used to promote this years event.
There is a Practical Guide to World Environment Day 2020 that gives an overview of the importance of biodiversity and what you can do as an individual, group, business, city and Government can do to take action.
Latest reports show that one million plant and animal species are facing extinction due to human actions. Every species plays a vital role within our ecosystem and the loss of species can have a devastating knock-on effect that throughout the ecosystem. There is also an intrinsic link to the global economy and biodiversity, with biodiversity services (including food, soil formation, air quality, climate change), are worth over $125 trillion a year.
However we can reverse the trends of biodiversity loss that we are spiralling towards, if we take action now to change our relationship with nature and become accountable in protecting it.
So make sure this year that you take action. You could make changes at home such as promoting wildlife in your garden through certain plants. You can talk to family and friends to raise awareness of the issue and let them know how they can get involved.
Tell your colleagues and management at work about World Environment Day and why change is needed. You could ask colleagues to propose initiatives that the company could back such as creating green spaces in the local community. You can choose to have those discussions with management to get the company to pledge an environmental objective to address the organisations impact on biodiversity, and come up with targets and an action plan to achieve them.
Whatever you do this World Environment Day, make it count.
How Cedrec is working to promote nature
Many of our staff will be engaging with various online sessions running on World Environment Day to increase knowledge and learn from what others are doing to make positive changes.
As a company one of the main impacts we have on the environment is emissions from travel, both to and from the office and travel to client's sites for consultancy work. Although travel emissions have disappeared entirely due to staff working from home and plans are afoot for consultancy site visits to be undertaken virtually in light of the coronavirus pandemic, we still have a commitment as a company to address our impacts.
Efforts are always being made to reduce our emissions in the first instance, from avoiding unnecessary travel, to taking more sustainable travel options, e.g. train journeys over car. But for those emissions we still generate across the year Cedrec offset these through a carbon offset programme.
Cedrec are a business member of a fellow North-East firm, Forest Carbon, who lead the way in voluntary carbon woodland creation in the UK. Last year we offset 25 tonnes of CO2 equivalent (over 100% of our emissions) through purchasing carbon credits to enable Forest Carbon to create woodlands, certified through the Woodland Carbon Code, across the UK. That equated to us offsetting over 100% of our emissions.
As well as offsetting our emissions, the creation of woodland helps to promote biodiversity, help to regulate water quality and supply in the area, and improves air quality.
Our Senior Consultant, Richard Clarke commented: ''Forest Carbon's planting and offset scheme is a perfect match for Cedrec, helping us mitigate our unavoidable carbon emissions whilst at the same time positively investing, year on year, in high quality reforestation schemes here in the UK, delivering significant biodiversity gain. Carbon offsetting has a role to play in our long term plan to reduce our carbon emissions and we are delighted to be working with Forest Carbon to deliver these benefits.''
There are of course other organisations who offer carbon offsetting through woodland creation or other schemes, and they're a great way to help companies and individuals offset their emissions. However the importance of reducing and where possible eliminating the damage we undertake to biodiveristy or the emissions we are responsible for is always the best course of action to adopt where possible.