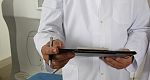 Test and trace workplace guidance issued
Published: 01 Jun 2020
Guidance has been issued on the NHS test and trace service, which explains how employers and businesses can play their part in slowing the spread of the virus, protecting the health and care system and saving lives.
What is NHS test and trace?
The NHS test and trace service forms a central part of the Government's coronavirus (COVID-19) recovery strategy, which aims to help the nation return to normal as soon as possible for as many people as possible, in a way that is safe and protects the NHS and social care sector.
Once launched, the service will also play a vital role in providing an early warning if COVID-19 activity is increasing locally, regionally or nationally.
This information will then be used to inform the Government's approach to stop the spread of the virus.
The NHS test and trace service:
provides testing for anyone who has symptoms of coronavirus to find out if they have the virus;
gets in touch with anyone who has had a positive test result to help them share information about any close recent contacts they have had;
alerts those contacts, where necessary, and notifies them they need to self-isolate to help stop the spread of the virus.
The role of employers
It is vital that employers play their part by:
making their workplaces as safe as possible;
encouraging workers to heed any notifications to self-isolate and supporting them when in isolation.
Although this may seem disruptive for businesses, it is less disruptive than an outbreak of COVID-19 in the workplace will be, and far less disruptive than periods in lockdown.
Employers must continue to follow health and safety workplace guidance for their sector such as:
making every reasonable effort to enable working from home as a first option;
where working from home isn't possible, identifying sensible measures to control the risks in the workplace;
keeping the workplace clean, maintaining safe working separation, and preventing transmission through unnecessary touching of potentially contaminated surfaces.
The measures employers put in place to maintain social distancing will depend on their individual business circumstances, including their working environment, the size of the site and the number of workers.
Workplace risk
COVID-19 is a new risk that must be incorporated into workplace risk assessments. Employers must therefore carry out a new COVID-19 risk assessment if they have not already done so.
The NHS test and trace service supplements the risk mitigation measures taken by employers by identifying people who have had close recent contact with someone who has tested positive for coronavirus and advising them to self-isolate.
This will reduce the risk of a rise in infections among the general population.
Supporting employers with a workplace outbreak
If multiple cases of coronavirus appear in a workplace, an outbreak control team from either the local authority or Public Health England will, if necessary, be assigned to help the employer manage the outbreak.
Employers should seek advice from their local authority as a first step.
Supporting workers who need to self-isolate
Employers should support workers who need to self-isolate and must not ask them to attend the workplace.
They should continue to communicate with workers in self-isolation and provide support. This includes allowing people to work from home if they remain well and if it is practicable to do so. This might include finding alternative work that can be completed at home during the period of self-isolation.
If people can't work from home, employers must ensure any self-isolating employee is receiving sick pay and give them the option to use their paid leave days if they prefer.
The NHS test and trace service will provide a notification that can be used as evidence that someone has been told to self-isolate.
Contact tracing: contact with co-workers
The NHS test and trace service will follow up with people who need to self-isolate because they have had close recent contact with someone, who might be a colleague, who has tested positive for coronavirus.
Guidance for workers
Workers who are self-isolating because they have symptoms of coronavirus or live with someone who has symptoms of coronavirus, can get an isolation note through NHS111 online.
Anyone who is told to self-isolate should share the evidence provided by NHS test and trace to show that they have been told to self-isolate and explain to their employer that this means that they cannot come to work.
Workers must self-isolate whenever they receive a notification from the NHS test and trace service asking them to do so. If this happens on multiple occasions, they should consider how to better follow social distancing requirements.
Workers who think the contacts that have triggered these notifications are workplace contacts, should ask their employer to consider what further mitigating actions could be taken to reduce the risk of COVID-19, such as using screens to separate people or "cohorting" to reduce the number of people each person has contact with.
For more information, see the: