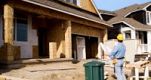 Research undertaken into modern methods of construction
Published: 02 Jun 2020
Homes England are undertaking research into how the country's housing targets could be met by modern methods of construction. The Government housing agency has an objective to improve construction productivity and encourage the uptake of modern construction methods.
They will monitor construction of around 1,500 homes across different sites in England over the course of several years. The study will look at the performance of different methods of construction over the long term to help provide in-depth data that can help inform decisions about emerging construction technologies.
A range of themes will be considered in the study, including:
build cost;
pace of build;
required skills;
safety performance;
snagging and defects;
construction wastage;
energy efficiency performance; and
performance post-occupancy.
Chief Executive of Homes England, Nick Walkley, commented: ''If we are to deliver homes at the scale, pace and quality the country needs, we have to seriously shake up how we build homes in England. This is at the very heart of our mission and it means embracing new technologies like modern methods of construction. Despite the impact of coronavirus being felt across the housebuilding sector, Homes England is open for business.''
''We can be certain that the demand for high-quality homes will remain and concerns about labour supply or quality will not go away. "Now more than ever, we recognise that more needs to be done to share learning and build confidence in modern methods of construction. This large-scale, long-term and in-depth research project will provide the sector with the critical evidence it needs to make informed decisions about modern methods of construction and deliver better homes faster.''