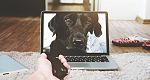 Homeworking and COVID-19
Published: 20 Mar 2020
Current Government advice on tackling the COVID-19 pandemic is to work from home if you can, so there's going to be loads of us across the UK setting up temporary work stations in dining rooms, kitchens and bedrooms.
It's important to know that as an employer, you have the same health and safety responsibilities for home workers as for any other workers. And given the extraordinary situation we find ourselves in, there's a need to be practical, flexible and sensitive to each others situation when working from home.
Things to consider
We know it's not possible for everyone to work from home, but as an employer if you have employees who can work from home you should consider:
how will you keep in touch with your employees;
which roles and tasks can be done from home, which might involve doing things differently and not assuming something cannot be based at home;
whether the task can be done safely, and if any control measures need to be put in place;
considering each individuals needs, like childcare responsibilities, health conditions or disabilities;
supporting employees to adjust to remote working.
Flexibility
There's a need to be sensitive and flexible towards the employee's situation, so anyone with issues around childcare, health conditions, disabilities or caring for someone else who may be ill, should talk to their employer.
Employers and employees may be able to agree a more flexible home working arrangement, which could include:
working different hours;
agreeing that the employee may not be able to work a full day or a full week;
reducing work targets;
being flexible about deadlines where possible.
Be mindful that an employee's circumstances may change so they're no longer able to work from home.
Remote and home working without supervision
There are always more risks for those working from home without any direct supervision or anyone to help if something was to go wrong.
So its vitally important that employers keep in touch and have regular contact to make sure their employees are healthy and safe.
If there is little or poor contact, then workers can feel isolated, disconnected and abandoned. Something that can affect their stress levels and mental health.
Equipment and technology
It's essential that employees have what they need to work safely, and employers are responsible for the equipment and technology they provide so people can work from home.
The employer should:
discuss equipment and technology with the employee;
agree what's needed;
support the employee to set up any new equipment or technology;
regularly assess how the systems and temporary arrangements are working and make any improvements necessary.
There's no increased risk in working from home temporarily, so there's no need for any home work station assessments. But it's important to realise that the situation is different for everyone and is going to be a little unusual, so there's steps that can be taken to help.
These could include:
breaking up long spells of work with increased rest breaks (at least five minutes every hour), or changes in activity;
trying to find different ways of creating a comfortable working environment in the absence of ergonomic chairs and adjustable desks;
changing position regularly, which will help avoid awkward, static postures;
getting up, moving about and doing some stretching exercises;
avoiding eye fatigue by changing focus and looking away from your screen from time to time.
Stress and mental health
Home working can cause work-related stress and affect people's mental health, and it's increasingly likely that both employees and employers are experiencing higher levels of stress and anxiety at the moment.
Put procedures in place so you can keep in direct contact with home workers so you can recognise signs of stress as early as possible, and they know they can get some support from managers and colleagues.
It's also worth reminding employees how important it is to take regular breaks, and that they should try and do other things outside of their working hours to stay mentally and physically active. Things like:
exercise;
cooking;
watching their favourite tv programmes;
other hobbies.