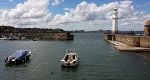 Plans for Edinburgh coastal settlement unveiled
Published: 25 Feb 2020
The City of Edinburgh Council has unveiled proposals to transform Edinburgh's largest brownfield site at Granton Waterfront into a new coastal town.
Central to this £1.3 billion scheme is a new coastal city park linking Granton Harbour to Gypsy Bra designed to reconnect the city with its waterfront.
The council explained this will provide residents and visitors with the opportunity to enjoy views across the Forth while experiencing enhanced leisure and outdoor activity.
The proposals will involve:
3,500 new homes, 35% of which would be affordable;
a school;
medical centre;
new cycling and walking routes;
enhanced suitable transport connections with the city, making a significant contribution to the capital's target to become a net-zero carbon city by 2030.
The council's housing association partners are currently delivering about 700 new homes for sale and rent within the area with a commitment from key public sector partners. The National Museums Scotland, National Galleries of Scotland and Edinburgh College will work in collaboration to make the location one of Edinburgh's best places to live, work, learn and visit.
The 140-hectare Granton Waterfront is identified as a strategic development area in the adopted local development plan and is identified as one of seven strategic sites prioritised for delivery as part of the Edinburgh and South East Scotland City Region Deal.
Council leader Adam McVey said: "We've made a commitment to become a net zero-carbon city by 2030 and the regeneration of Granton offers the perfect opportunity to showcase how this can be delivered. We are committed to working with the local community and partners to create vibrant new neighbourhoods where people live and travel and grow the economy in an eco-friendly way".