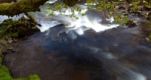 Draft on post-2020 Global Biodiversity Framework published
Published: 13 Jan 2020
The UN Convention on Biological Diversity has published the zero draft plan of their post-2020 Global Biodiversity Framework.
In plans that have been likened to the Paris agreement on climate change, a deadline of 2030 has been set for the conservation and restoration of ecosystems and wildlife that perform crucial services for humans if we are to avoid what scientists have described as the sixth mass extinction event in Earth's history.
The draft framework establishes five long terms goals for 2050 which are related to the 2050 UN vision for biodiversity:
no net loss by 2030 in the area and integrity of freshwater, marine and terrestrial ecosystems, and increases (of at least 20%), ensuring ecosystem resilience;
reduction in the percentage of species threatened with extinction and an abundance of species average increase;
maintain or enhance genetic biodiversity in average by 2030 and for 90% of species by 2050;
nature providing benefits to people which contribute to:

improvements in nutrition,
improvements in sustainable access to safe and drinkable water,
improvements in resilience to natural disasters,
at last 30% of effort to achieve the target of the Paris Agreement on climate change;

increase in the benefits shared fairly and equitably from the use of genetic resources and associated traditional knowledge.
They also state a 2030 Mission for the framework: 'to take urgent action across society to put biodiversity on a path to recovery for the benefit of the planet and people.'
This will be achieved through 20 key points which are covered in three key areas:
reducing threats to biodiversity;
meeting people's needs through sustainable use and benefit-sharing;
tools and solutions for implementation and mainstreaming.
Environmental campaigners have welcomed the UN proposals.
Brian O'Donnell, director of Campaign for Nature, commented: "Today's draft shows that countries are listening and that they recognise the increasingly important role that protecting land and water must play in confronting climate change, preventing wildlife extinctions, and supporting people and local communities. This is a very encouraging first step. Much work remains to be done in the coming months to ensure that the rights of indigenous people are advanced, and bold conservation and finance targets are included in the final agreement."
The draft is expected to be adopted by governments at a UN summit in Kunming, China, in October this year.
For more information see the: