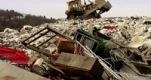 Northern Ireland's Local Authority released statistics for municipal waste management
Published: 08 Nov 2019
The 'Provisional Northern Ireland Local Authority collected municipal waste management' statistics for the period of April to July 2019 have been published today by the Department of Agriculture, Environment and Rural Affairs (DAERA).
The statistical report is updated quarterly and contains various pieces of information on key measurements of the Local Authority Collected (LAC) municipal waste, for both councils and waste management groups in Northern Ireland.
The report found a few key points.
Northern Ireland's councils collected 265,181 tonnes of LAC municipal waste in the period between April and June 2019 - this is 2.9% lower than the 273,200 tonnes collected during the same three months of the previous year. Of the total waste, around 88.5% of this was household waste, seeing the largest amount per capita produced at Antrim & Newtownabbey at 158kg.
The 'household waste preparing for either reuse, dry recycling and composting' rate was at around 54.8% between the same three months, which is an increase on the 52.6% recorded during 2018's same months. At the council level, the rates varied throughout, from around 45.5% in Derry city, to near to 63.2% in Mid Ulster.
The LAC municipal waste energy recovery rate was 18.7%, this is an increase on the 17.1% reported for April to June 2018 - there was a lot of variation over the country, the highest rate was near to 40%, and the lowest at 5%.
The latest quarterly landfill rate for household waste is 24%, a further reduction from the result recorded in the previous year, being 27.9%.
There were around 31,905 tonnes of what was 'Biodegradable Local Authority Collected Municipal Waste' (BLACMW) sent to landfill from April to June 2019 - a positive outcome, as it is a lower amount than the previous year by 17.3%, and accounted for a smaller proportion of the permitted annual allowance allocated to councils, that they have for sending the BLACMW to landfill - 14.5% compared to the result of 16.5% in the previous year.