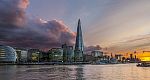 Tulip building rejected
Published: 19 Jul 2019
If you've visited London recently, you'll have noticed the buildings are getting higher and ever more ambitious and modern. In recent years we've seen the development of the Shard, the Gherkin, the Cheesegrater, the Walkie Talkie (to use their correct names, of course) and the new-ish mayor of London's office which is an impressive glass building by the side of the Thames. London will not, however, see the tulip added to its impressive list of new buildings.
The proposed new skyscraper, designed by Norman Foster, was going to be 1000 feet tall (the second-highest building in London after the Shard), was to contain a restaurant and sky bar at the top alongside education facilities and exterior gondolas that would allow visitors to ride along an eight-minute loop around the outside of the tower - a bit like the London Eye but higher and attached to the side of a building.
Although the City of London Corporation's planners approved the building in April, the Mayor of London, Sadiq Khan, has advised planners to reject the planning proposal for the tulip. He raised several concerns about the proposal, including:
it would harm the London skyline;
it did not constitute the highest level of design required for the proposed location;
the building would have a negative impact on the Tower of London World Heritage Site;
the space around the proposed building was not sufficient, therefore unsafe;
some transport elements, such as a lack of cycle parking, was in conflict with the London Plan for transport.
In response to the decision, architects Foster + Partners said: "The Tulip Project team are disappointed by the Mayor of London's decision to direct refusal of planning permission.
"We will now take time to consider potential next steps for The Tulip Project."
Potential next steps include a possible appeal, should they decide they have grounds to do so.