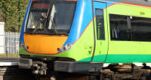 Gatwick Airport train station set for £150 million upgrade
Published: 11 Jul 2019
The Department for Transport (DfT) is to invest £150 million into upgrading facilities at Gatwick Airport's train station.
The revamp aims to reduce train delays caused by platform overcrowding and congestion, as well as providing easier connections to other destinations.
The upgrades will include:
doubling the size of the station concourse;
adding five new lifts and eight escalators to improve passenger flow;
widening two platforms to reduce overcrowding.
Transport Secretary Chris Grayling commented "with 46 million people now using Gatwick Airport every year and 20 million coming by train, it is vital that we make the station more accessible and customer-friendly for those travelling through it.
"The UK's second-largest airport has direct rail links to more than 120 destinations and is an important public transport hub".
The number of people using Gatwick Airport station each year has grown by six million since 2010. Currently the station is not designed for the high volume of daily passengers and their luggage. The renovation will be managed by Network Rail in partnership with the DfT. Gatwick Airport Ltd and Coast to Capital Local Enterprise Partnership are co-funding the project with £37 million and £10 million respectively.
The works are due to start in Spring 2020 and will take about two years to complete.