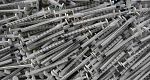 Consultation on new healthcare waste Guidance
Published: 11 Jun 2019
The Environment Agency seeks views on proposed new Guidance for facilities that take, treat or transfer healthcare waste. The new Guidance, if approved, will replace the technical guidance EPR 5.07 Clinical Waste from 2011.
The proposed Guidance aims to deliver improvements in the design and operation of permitted facilities in the healthcare sector and make sure that appropriate measures are applied consistently. It also incorporates the relevant requirements set out by Decision (EU) 2018/1147 establishing best available techniques (BAT) conclusions for waste treatment.
This Consultation seeks views on whether additional measures should be included in the proposed Guidance, such as:
Fire Prevention Plans;
labelling checks on loose packaged items;
storage and handling of healthcare waste in a building;
storage of items on pallets;
storage times to ensure effective management of waste inventory; and
emissions and monitoring requirements.
The document attached contains draft Guidance which is the subject of this Consultation.
Responding to this Consultation
This Consultation is open for responses from 3 June 2019 until 15 July 2019.
The preferred way to respond is by completing an online survey on the Environment Agency's website.
Alternatively, written responses can be sent by e-mail to: wastetreatment@environment-agency.gov.uk.
For more information, see the: