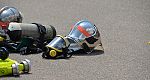 New guidance on RPE fit testing
Published: 18 Apr 2019
New Industry Guidance (INDG) has been produced by the Health and Safety Executive (HSE), to give advice to employers and those conducting fit tests, on appropriate fit testing on respiratory protective equipment (RPE).
Fit testing for RPE should be carried out as part of the initial selection of the RPE for an employee before they begin to carry out any work that requires the use of RPE. A fit test should also be repeated whenever there is a change to the RPE type, size, model or material and whenever there is a change in the circumstances of the wearer that could alter the fit of RPE, such as:
weight loss or gain;
substantial dental work;
any facial changes (scars, moles, effects of ageing etc.) around the face seal area;
facial piercing; and
introduction or change on other head-worn personal protective equipment (PPE).
This guidance provides information on:
fit test methods;
what can be achieved from a fit test; and
what information must be included in a fit test report.
For more information, see:
INDG479 - Guidance on respiratory protective equipment (RPE) fit testing.