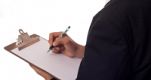 Fee For Intervention goes up 20%
Published: 16 Apr 2019
The Health and Safety Executive (HSE) has confirmed that the costs for its Fee for Intervention (FII) will increase by 20%, from 6 April 2019.
Organisations which are found to be in material breach of health and safety requirements will be charged the HSE hourly rate for its time of £154, an increase from £129. Their "time" involves, investigation, helping companies to correct failings and taking enforcement action.
FFI was introduced back in October 2012 to shift some of the cost of regulating workplace health and safety from the taxpayer onto those responsible for breaches in legislation. However, more recently, FFI has been costing the HSE more than it recovered in income from it. Last year they reported a loss of £1.9m from running FFI.
A spokesperson for the HSE commented: "The HSE must set the FFI rate with the aim of recovering its full cost and in recent years it has operated at a deficit (i.e. cost more than recovered in income). A combination of this and cumulative inflationary pressures support the increased hourly rate."
For more information, see the: