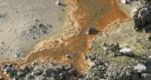 New Guidance for Pollution Prevention (GPP) on spills published
Published: 14 Nov 2018
Natural Resources Wales (NRW), the Northern Ireland Environment Agency (NIEA) and the Scottish Environment Protection Agency (SEPA) have produced new guidance for anyone who is responsible for storing and transporting materials that could cause pollution if they spill, or to those who respond to spills or are responsible for transport or storage of waste from spills.
GPP22 is not however endorsed by the Environment Agency, so does not apply in England.

Details of the Guidance
It is always better to prevent spills from happening in the first place, therefore, secure storage, careful deliveries and training for staff who use, and transport substances that could cause pollution if spilt are essential for appropriate pollution control.
If your business uses or transports substances that could cause pollution, you are responsible for the environmental safety of the site and activities.
The most common causes of spills include:
overfilling or poor handling of containers;
damaged containers;
containment failure;
failure of pipework or underground storage tanks;
collision or accident;
weather-related problems, such as flooding;
fires; and
vandalism.
Spills will only pose a risk to people and the environment if a source (eg. spill of a hazardous substance from a drum), pathway (eg. drain) and receptor (eg. river) are present.
This guidance document provides information about:
pollution risk assessments;
pollution incident response plans;
the pollution control hierarchy;
pollution control methods and equipment needed to contain spills;
site-specific pollution control options;
spills on a road or highway;
clean-up after containing a spill, including pollutant-specific information.
For more information, see: