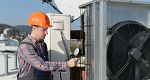 Consultation on draft Northern Ireland F-gas Regulations
Published: 05 Sep 2018
The Department for Agriculture, Environment and Rural Affairs (DAERA) is consulting on proposed amendments introduced by the Draft Fluorinated Greenhouse Gases (Amendment) Regulations (Northern Ireland) 2018.
They aim to bring Northern Ireland in line with the EU requirements and help to control Northern Ireland's greenhouse gas emissions and limit global warming.
Scope
The proposed Draft Regulations, if approved, will amend the Fluorinated Greenhouse Gases Regulations (Northern Ireland) SR 2015/425. The amendments include:
extending existing provisions on F-gases to now include a new sector of business, namely refrigerated trucks and trailers;
updates to certification for work with F-gases in electrical switchgear;
a new certification requirement for work with F-gases in stationary refrigeration and air conditioning, heat pumps and refrigeration units of trucks and trailers;
updates to legal requirements on placing labels on equipment containing F-gases;
new reasons acceptable for contesting an enforcement notice issued for alleged offences relating to F-gases;
a legal requirement for any business transferring work with F-gases to another business to make sure that adequate certification is in place for work with F-gases; and
amendments to how certification, evaluation and attestation bodies for qualifications for work with F-gases are listed in law.
What sectors could this apply to?
F-gases are used in Northern Ireland in the following sectors of business and industry:
refrigeration systems;
air conditioning, including in motor vehicles;
heat pump equipment;
F-gas based solvents;
high-voltage switchgear;
insulation foam;
refrigerated lorries and trailers;
aerosols;
fire protection;
magnesium smelting/casting;
Organic Rankine Cycles; and
chemical manufacturers and suppliers.
Responding to this consultation
This Consultation is open for responses from 29 August until 26 October 2018.
The way to respond to this consultation is by forwarding comments by e-mail to aeqteam@daera-ni.gov.uk
For more information on this subject, see the: